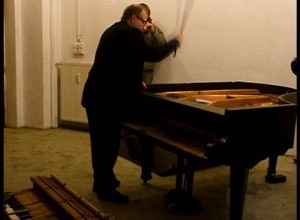 "Ich weiß nicht, ob ich unglücklich bin, weil ich nicht frei bin, oder ob ich nicht frei bin, weil ich unglücklich bin." 
Jean Seberg in »À bout de souffle» von Jean-Luc Godard
In der Performance »neverever a.m.» verabschiedet Peter Kees einen Flügel, zerlegt ihn und erzeugt dabei mit Teilen des Instrumentes Klänge, Rhythmen, Töne.
Das Klavier, in der Romantik ganz besonders eins mit der Kunst, wird dabei auf brutale Art und Weise zerstört. Ein Akt der Entwertung dessen, was einst edel und teuer war, eine Quelle des Vergnügens darstellte, ein Symbol von höheren und erlösenden Werten war. In diesem Prozess entsteht – musikalisch wie visuell – Antiästhetik: Entstellung, Entzauberung. Ein Kunstobjekt wird entblößt und entlarvt als eine rüde Maschine aus Holz, Stahl, Schrauben und banaler Mechanik.
"I don't know whether I am unhappy because I am not free, or whether I am not free because I am unhappy."
Jean Seberg in Jean-Luc Godard »À bout de souffle»
In the performance »nevernever a.m.» Peter Kees bids farewell to a grand piano, before proceeding to demolish it in a symbolic act of violence, using pieces of the shattered instrument to create a haunting soundscape of destruction.
The piano, synonymous with the arts and in particular Romanticism, has been brutally demolished in an act of de-valuement. What was once precious, a source of pleasure, a symbol of higher and redeeming values, is rendered value-less. In the process an anti-aesthetic – musically and visually - arises: of dissonance, of disfiguration, of dis-echantment of the art object, as its rude mechanics are laid bare.
II. neverever
Installation · 2010
I. neverever a.m.
Performance · 2009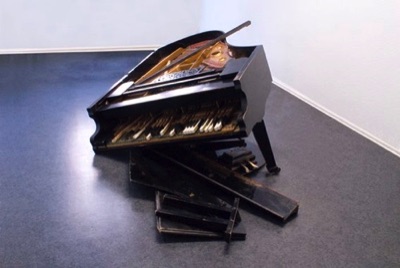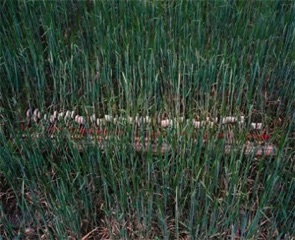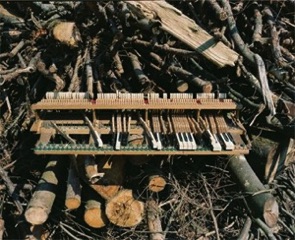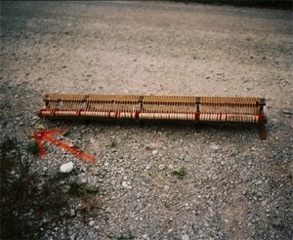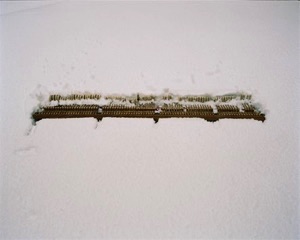 Einspielung des Sounds aus der Performance/Soundpice from
Performance "neverever a.m."
III. Amour fou
Fotografie/Photography · 2010
III. Liebestod
Video · 2010